"The grass will be on the pitch." You don't say so, Gary!
The Daily Transfer Request is going to war on football pundits who use endless clichés.
How many times have we had to suffer people like Jamie Redknapp and Alan Hansen trying to sound clever by spewing out business jargon, nonsense phrases and needless superlatives? Well, today, TDTR is taking a stand.
Between 1:00pm and 7:00pm, I have been watching Sky Sports' Super Sunday programme, which saw them broadcast live coverage of Stoke City vs Arsenal and Liverpool vs Manchester City. During those six hours, I have kept a note of EVERY cliché uttered by a Sky presenter, pundit or commentator. Here's what I've been looking out for:
Standard football clichés (i.e. it's a game of two halves)
Business jargon (i.e. going/moving forward, out of their comfort zone)
Overuse of 'obviously' when it isn't obvious
Super prefixes (i.e. super-, ultra-) and double-superlatives (i.e. top top)
And here are the results:
GREG WHELAN
"How can they make this team stronger do you feel
going on?
"
TOTAL: 1
ED CHAMBERLIN
"And just
in terms of
personnel to go back to that, do you agree with Jamie
in terms of
finding it
hard to improve on what they've already got?"
"No,
in terms of
the players available."
TOTAL: 3
NIALL QUINN
"
Good good
penetrating ball."
"
He's set the stadium alight!
"
"They've had a
real real
game, Man City, haven't they?"
"And I think the Anfield faithful are going to love him for a
long long
time to come."
TOTAL: 4
MARTIN TYLER
"Passing is in the DNA of this football
club
."
"He just looked a little bit
out of his comfort zone
then."
"He's been a coach a
long long
time."
"There may be further changes for Roberto Mancini
in terms of
bringing in players."
"
In terms of
the way the goals have been scored."
TOTAL: 5
JAMIE REDKNAPP
"His football IQ is
off the chart
."
"That pass
there is incredible. It's hard to almost put into words how good it is."
"It's a clash of styles. It's what it's about."
"Obviously, the requirements now is the pitch has to be 2 metres bigger."
"Obviously momentum is going to pull him down to the floor."
"I wouldn't have thought they would've played too often together obviously when he came back into the team."
"Anything could happen today when he's up there."
"I expect him just to play in a three. Obviously it's good for him to have Lucas back."
"The ball first of all - absolutely different class and the header is unstoppable."
"It's obviously well documented that they want Clint Dempsey."
"It's the best I've seen them organised from set-pieces for many a year in terms of organisation."
TOTAL: 11
GARY NEVILLE
"I think it's a good time of the year for them to go there.
The grass will be on the pitch
."
"They need deliveries from wide areas, whether it be from set-pieces, whether it be from throw-ins, but
obviously
from crosses from open play."
"Steve Bould
obviously
would have been huge in his day with Tony Adams at set-pieces."
"
In terms of
the way Brendan likes to play..."
"
You can't buy that level of experience and loyalty
."
"It's been good to him
in terms of
his period at United, his period at City."
"He's a
top top
player."
"Steven Gerrard is probably the only one of the Liverpool players who can match him stride for stride
in terms of
that power."
"I think
in terms of
speed, though, Gerrard will stay with him."
"It hits him before he knows it
in terms of
swinging his leg at it trying to clear it."
"Brendan Rodgers will have done more by bringing him in today
in terms of
warming himself to Liverpool fans."
"
The big games take care of themselves
."
"You know, a new manager,
obviously
failed at Chelsea."
TOTAL: 13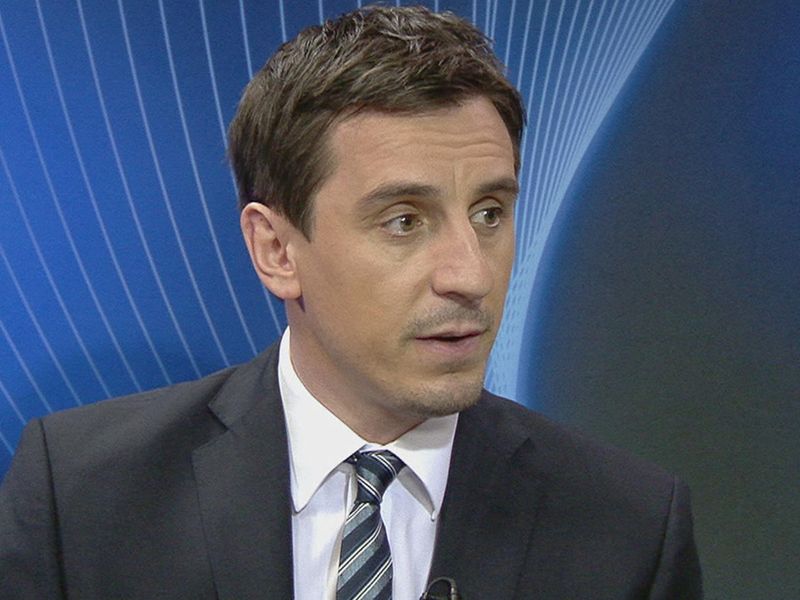 In terms of clichés, Gary Neville is the King.
As you can see, it was a mixed bag for the commentary teams. The Stoke-Arsenal team of Alan Parry and Alan Smith steered clear of the clichés, but the Liverpool-City duo of Martin Tyler and Niall Quinn got themselves stuck in the minefield a few times. Quinn's double-adjectives cost him dearly, and Tyler seemed to lack fresh things to bring to the table, if you'll mind another cliché.
But most of the clichés were uttered by the two main pundits, Jamie Redknapp and Gary Neville. Neville's regular overuse of the phrase 'in terms of' saw him crowned The Daily Transfer Request's first
King of Clichés
, but Redknapp showed that he will obviously be a strong contender if TDTR ever runs another Cliché Count.
If you're reading this, Gary, sharpen up, or we'll be after your head!
P.S. During his post-match interview with Geoff Shreeves, Liverpool midfielder Joe Allen used the words 'obvious' or 'obviously' 12 times. He obviously needs media training, obviously.